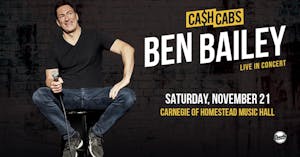 Presented by Drusky Entertainment
Ben Bailey
Matt Light, Jeff Konkle
Come see Ben Bailey at Carnegie of Homestead Music Hall on Saturday, November 2`1st at 8 pm. This event is all ages!
Please be advised, Ben Bailey on May 2nd at Carnegie of Homestead Music Hall has now been rescheduled to Saturday, November 21st, 2020. Please hang on to your tickets, all tickets purchased for the original date will be honored.
Ben Bailey
with special guests Matt Light
hosted by Jeff Konkle
Saturday, November 21st. 2020
Doors: 7:00PM / Show: 8:00PM
Carnegie of Homestead Music Hall (Munhall, PA)
$25.75 - $49.75
Tickets go on sale Friday, December 13th at 10AM
This event is all ages
PRESALE: Wed. December 11th @ 10AM ET
PUBLIC ON-SALE: Fri. December 13th @ 10AM ET
About Ben Bailey: Before he got behind the wheel of The Cash Cab -Ben Bailey began his career
as a Stand Up comedian. As a young man Bailey left his home in a small town in New Jersey and headed to Los Angeles to pursue his dream of a career in show business. Just a few weeks later he found himself onstage at The Comedy Store on the Sunset Strip and knew right away that he had found his calling. He soon after returned to the East Coast and quickly became a crowd favorite at the clubs in New York City. He has since performed at all the major festivals including Montreal and Chicago (Just For Laughs), The Edinburgh Fringe Festival, and at clubs and theaters around the world.
In 2019 Ben's hit TV gameshow "Cash Cab" returned to BRAVO after a successful special run on The Discovery Channel in 2017. Bailey and his cab is back on duty, returning to the infamous streets of New York City to take unsuspecting passengers on the ride of their life. The 2017 incarnation of the 6-time Daytime Emmy-Award® winning series saw unwitting passengers joined by a guest celebrity who helped the passengers rack up the cash. The celebrity line-up included Matthew Perry, Brooke Shields, Scott Bakula, Gilbert Gottfried, Dave Foley, Jeff Garlin and Susie Essman. The series continued in it's original format through 2018 and was picked up by The Gameshow Network for 2019, solidifying the show as a classic gameshow.
Ben has starred in two specials for Comedy Central. His most recent, "Road Rage and Accidental Ornithology," is currently streaming on Netflix. He has appeared in several commercials, on "Last Call w/Carson Daly," "The Late Show," "The Tonight Show," "The Today Show," "The Oprah Winfrey Show," "Rachel Ray," and virtually every major TV and radio show in the country... He has gone on to host Several other series including "Who's Still Standing" for NBC, "Best in The Business" and "After the Catch" for Discovery. He has appeared in numerous other TV shows - "30 Rock," "Parenthood," "Law and Order," and "One life to Live" to name a few. He has also been featured in several films including "Bad Parents," "Don't Shoot the Pharmacist," and "Bad Meat." Bailey tours as a national headliner, you can see him live at a Theater or Comedy Club in your area and in his latest Stand Up Special "Ben Bailey Live & Uncensored." He can also be heard on his popular podcast "Tall But True."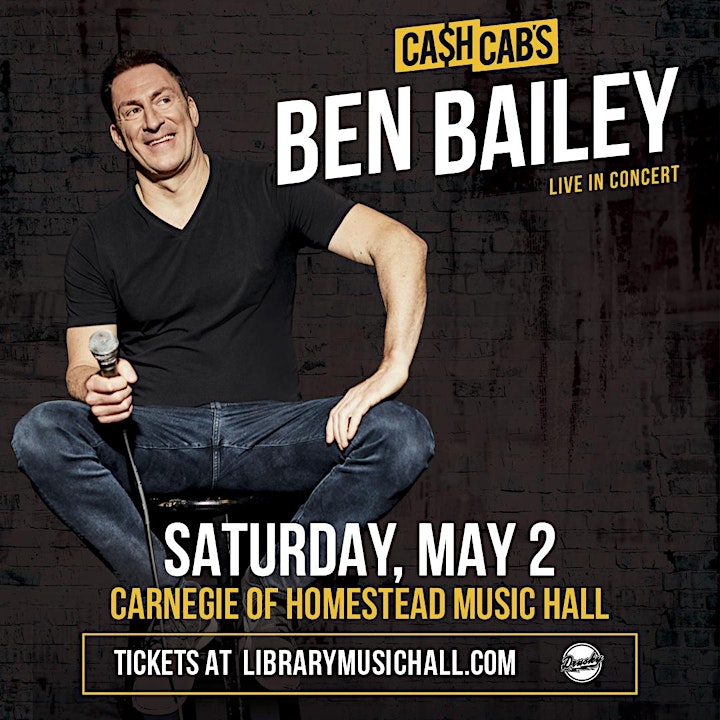 Venue Information:
Carnegie of Homestead Music Hall
510 East 10th Ave

Munhall, PA