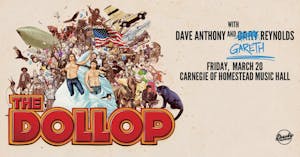 Drusky Entertainment Presents
The Dollop with Dave Anthony and Gareth Reynolds
Friday, March 20th, 2020 | This event is all ages!
Come see The Dollop with Dave Anthony and Gareth Reynolds at Carnegie of Homestead Music Hall on Friday, March 20th 2020!
The Dollop Tickets go on sale Friday, November 8th at 10AM!
Venue presale begins Thursday, November 7th at 10AM!
Drusky Entertainment Presents

The Dollop with Dave Anthony and Gareth Reynolds

Friday, March 20th, 2020

Doors: 7:00PM / Show: 8:00PM

Carnegie of Homestead Music Hall (Munhall, PA)

$35.00 - $75.00 (VIP Packages available)

Tickets go on sale Friday, November 8th at 10AM!

This event is all ages

**************************************************

Get The Dollop tickets on Friday, November 8th at 10AM!

About The Dollop: The Dollop is a US history podcast with comedian hosts Dave Anthony and Gareth Reynolds. History buff Dave decided to turn his hobby into a podcast. Each episode he reads one weird and disturbing story from the American past to Gareth, who has never heard the tale. Gareth's hilarious reactions are why The Dollop is in the top 20 downloaded comedy podcasts in the US, Canada, and Australia.

On Sale Times:

Artist Pre-Sale: November 5th

Venue Pre-Sale: November7th

Public On-Sale: November 8th

Venue Information:
Carnegie of Homestead Music Hall
510 East 10th Ave
Munhall, PA