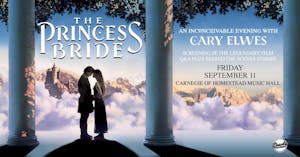 Drusky Entertainment Presents
The Princess Bride: An Inconceivable Evening With Cary Elwes
$45.00 - $150.00
Sold Out
Fri. September 11th, 2020 | This event is all ages!
Due to reasons beyond our control, this event has been postponed until September 11th, 2020.
We ask that patrons please hang onto to their tickets for the new date. All tickets for the new date will be valid and honored"
Drusky Entertainment Presents
THE PRINCESS BRIDE: AN INCONCEIVABLE EVENING WITH CARY ELWES
Friday, September 11th, 2020
Doors: 7:00PM / Event Starts at 8:00PM
Carnegie of Homestead Music Hall (Munhall, PA)
$45.00 - $150.00 (VIP Packages available)
Tickets go on sale Friday, December 13th at 10AM!
This event is all ages!
VIP includes: (1) Premium Seat, a Meet and Greet with Cary Elwes, plus a signed copy of his new book "As You Wish: Inconceivable Tales from the Making of The Princess Bride"
In this highly-anticipated event, fans of The Princess Bride will join the heroic Cary Elwes (Westley) in a behind-the-scenes look at life on and off the set of the classic film. After a screening of the iconic film, Elwes will engage in a moderated discussion on classic scenes, revealing never before shared secrets and tales of inconceivable antics! Journey back to the lands of Florin and Guilder in an adventure filled with fencing, fighting, torture, revenge, giants, monsters, chases, escapes, miracles and of course, true love.
Elwes recently joined the cast of Netflix's hit show, "Stranger Things".
Venue Information:
Carnegie of Homestead Music Hall
510 East 10th Ave

Munhall, PA